Historical Background
Winter cities face the common issue of having to adapt city planning to harsh winter climatic conditions, such as heavy snowfall and cold temperature. Under the slogan "Winter is a Resource and Asset," the World Winter Cities Association for Mayors (WWCAM) provides winter cities in the world with similar climatic conditions an opportunity to gather together and discuss common issues in order to create livable winter cities. The organization started when the city of Sapporo initiated the Northern Intercity Conference in 1981.
In 1982, the first Northern Intercity Conference was convened in Sapporo with attendance of nine cities from six countries. Since then, the conference has continuously been held. Through the conferences, an original network developed among northern cities in Asia, North America and Europe.
Since the third conference in Edmonton in 1988, the Winter Expo for industries and businesses and Winter Cities Forum for academics and research institutes have been held in conjunction with the mayors conference. Thus, the conference has grown to be the largest winter convention in the northern region of the world, bringing together people, commodities, technology, and information.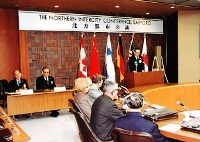 First Conference, Sapporo (1982)
At the sixth Conference in Anchorage in 1994, a new member-based system was established aiming to further strengthen this network and to contribute to the development of an entire northern circle where winter cities can collaboratively work together. In accordance with this establishment, the name of the conference was changed to the Northern Intercity Conference of Mayors. In the past conferences, mayors have discussed various issues such as city planning, winter transportation, snow clearing and removal, waste recycling, tourism promotion and resources development. From each other's experience, they took some useful hints for city development and learned about measures to overcome difficulties caused by severe climatic conditions.
Since 2002, the Working-Level Officials Meeting has been held annually, providing administrative officials from member cities opportunities to discuss more practical issues.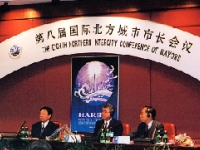 Eighth Conference, Harbin (1998)
At the eleventh Conference in Anchorage in 2004, it was resolved that the target membership area would be expanded and the name of the association would be changed to the "World Winter Cities Association for Mayors (WWCAM)." In order to revitalize the organization and enhance its attractiveness, the WWCAM Revitalization Plan was approved. Based on this revitalization plan, it was decided that member cities would make concerted efforts to tackle global environmental issues and improve citizens' life in winter cities aiming to create sustainable societies, which will therefore lead to the promotion of the association's activities to the world.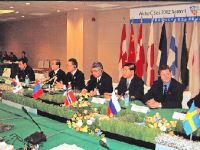 Tenth Conference, Aomori (2002)
The mayor of Sapporo has served as president of the organization since the International Association of Mayors of Northern Cities was established, and its secretariat has been located at the International Relations Department of the City of Sapporo.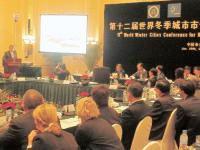 Twelfth Conference, Changchun (2006)