DAQING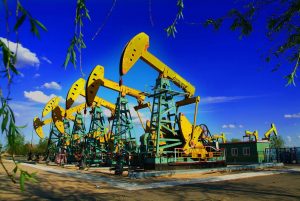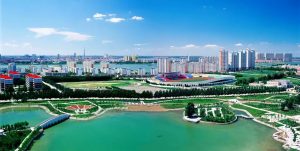 City: Daqing (China)
Population (October 2021): 2,780,000
Area: 21,000 km2
Latitude: 46.58° N
Average temperature in 2021: 4.9°C
Highest temperature in 2021: 32 °C
Lowest temperature in 2021: -30°C
Total snowfall between October 2021 and May 2022: 5.89 cm
City symbols:
Flag of Daqing
Sister Cities & Friendship Cities
Tyumen (Russia), Buffalo (South Africa), Quatre Bornes (Mauritius), Calgary (Canada), Charters Towers (Australia)
Daqing is located in the west of Heilongjiang Province and the northern part of Songliao Basin. There are five districts, four counties, a new and high-tech park, an economic technological development park. The city covers an area of 21,000 square kilometers with the urban area of 5,105 square kilometers. The permanent resident's population of Daqing is 2.78 million.
Daqing Oilfield was discovered in 1959. Daqing Municipality was officially established by the State Council in 1979. Daqing is the major petroleum and petrochemical base in China. Petroleum and Petrochemical industry are our mainstay industry. In 2021, the production of oil and natural gas are 30 million tons and 5.02 billion cubic meters respectively.
Daqing enjoys convenient transportation system. There is an airport with 12 air routes connecting the city with 15 domestic cities. Daqing has abundant tourism resources, including wetlands, geothermal hot springs, lakes, grasslands, etc., and enjoys the reputation of "Green Capital of Petroleum, City With Hundred-Lakes and Home to Hot Spring in Northern China. Daqing boasts a friendly ecological environment featuring fresh air, blue sky and clean water.
Daqing has high-level educational resources for international cooperation. There are 6 colleges and universities. Daqing also has large public facilities including opera, library, museum and gymnasium. Large theaters and stadiums with multiple functions are designed to hold activities and events such as the World Snooker International Championship, Women's Chinese Basketball Association and many other sports games.
At present, we are striving for economic transformation of our city and lay more stress on developing new energy, new materials, automobile, equipment manufacturing, food product deep processing and biological economy etc. Under the leadership of Daqing Municipality, we are accelerating our pace to build Daqing into an innovation-oriented city during energy transformation, an emerging city with deep integration of digitization and industries, and a high-quality development city.
More Information
Official Website: http://www.daqing.gov.cn/
City Introduction Video:  https://www.daqing.gov.cn/daqing/c100569/zjdq.shtml