SHENYANG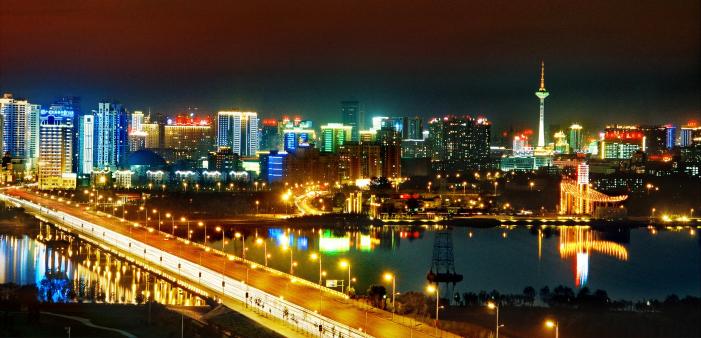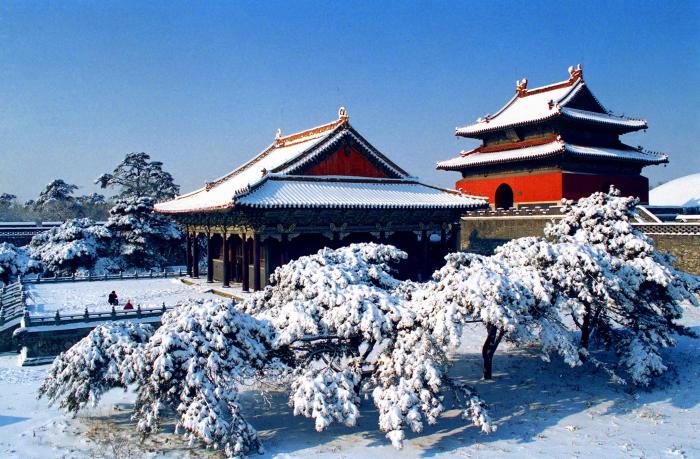 City: Shenyang (China)
Mayor: JIANG Youwei
Population: 8,291,000
Area: 13,000 km2
Latitude: 41.8° N
Average temperature in 2016: 8.8 °C
Highest temperature in 2016: 35.2 °C
Lowest temperature in 2016: -24.8 °C
Total snowfall between Oct. 2016 and May 2017: 4.22 cm
City symbols: Rose (city flower)
Flag of Shenyang
Sister Cities & Friendship Cities
Sapporo (Japan), Kawasaki (Japan), Dusseldorf (Germany), Torino (Italy), Chicago (U.S.A.), Irkutsk (Russia), Quezon (Philippines), Monterrey (Mexico), Ramat Gan (Israel), Seongnam (Republic of Korea), Yaounde (Cameroon), Thessaloniki (Greece, 2005), Katowice (Poland, 2007), Ufa (Russia), Novosibirsk (Russia), Daejeon (Republic of Korea), Incheon (Republic of Korea), La Plata (Argentine)

City PR
As the capital city of Liaoning Province, Shenyang is the economic, cultural, traffic and commercial centre of Northeast China. The total area is 13,000 square kilometres and the population is 8,257,000. The city includes 9 districts, 4 counties (or cities) and 3 state-level development zones.
Shenyang is a city rich in cultural heritage, renowned as the Origin of one dynasty and Capital of two emperors. Over 1500 historical and cultural places of interest are located in Shenyang, including three world cultural heritages (Imperial Palace of Qing Dynasty, Fu Mausoleum and Zhao Mausoleum), Xinle Relic, Xibe ancestral temple, four towers and seven temples of Ming and Qing Dynasties and Marshal Zhang's Mansion, which made the city among the first batch of historical and cultural cities of the country.
Shenyang is a city holding advantageous geographical position. High speed railways, high speed roads and intercity railway intersect across the city, and the biggest marshaling stations and airports in the Northeast are also in the city. Shenyang and the seven surrounding cities of Anshan, Fushun, Benxi, Yingkou, Liaoyang, Tieling and Fuxin composite the Shenyang Economic Zone, with abundance of resources and complete economy, being national experimental zone of comprehensive supplementary reform of new industrialization.
Shenyang is a city with strong development potential and 165 industrial categories. With equipment manufacturing industry as the symbol, she is an important industrial base of the country, having advantageous industries of equipment manufacturing, automobile and the components, modern architecture, agricultural deep processing, general aviation, being national experimental zone of the combination of informationization and industrialization. Developing fast in finance, the city has become the financial centre of the Northeast, locating 133 financial units of or above branches. Strong in scientific research and rich in talent resources, the city locates 44 colleges and universities, 28 state-level engineering technical research centres and key laboratories.
Shenyang is a city active in foreign communication, having economic relations with 182 countries and regions, establishing sister-city relationship with 18 cities of 13 countries and friendly cooperative relationship with 63 cities of 21 countries. Eighty-seven world fortune 500 companies including GM and GE of America, BMW of Germany and Michelin of France have set up 152 companies in Shenyang.
Shenyang is a city enjoying comfortable environment, being honoured with National Model Cities for Environmental Protection, National Forest City and National Garden City successively.
During the period of China's Twelfth Five Year Plan, Shenyang will accelerate in developing into national centre city, equipment manufacturing industrial base and ecological friendly city, leading the comprehensive rejuvenation of old industrial bases of the country.
The passionate and vigorous city of Shenyang welcomes your arrival.
More Information
Official website: http://www.shenyang.gov.cn/