2013 International Winter Festival Symposium
Outline
In January 2013, mayors and representatives from seven cities from seven countries, which are the hosts of major winter festivals, gathered in Hwacheon, Korea to strengthen their ties and approach common challenges by sharing information through presentations and discussions. Among the WWCAM member cities, Harbin, Viimsi, and Sapporo participated in the symposium and introduced their winter festivals and tourism attractions.
(1) Date: Saturday, January 5, 2013
(2) Venue: Hwacheon Youth Culture Center, Hwacheon, Korea
(3) Participants: 22 people from seven cities from seven countries (Cities with asterisk mark are WWCAM members.)
Quebec (Canada): "Quebec Winter Carnival: A Leader in Winter Tourism in North America"
Harbin* (China): "International Exchange of Know-hows on Winter Festival and Tourist City Network"
Viimsi* (Estonia): "Winter ? Viimsi ? Estonia"
Sapporo*: "Sapporo's Culture of Snow Festival for the Next Generation"
Volzhsky (Russia): "Festival 'Great Maslenitsa'"
Grindelwald (Switzerland): "Winter, Coexistence and Hope"
Hwacheon* (Korea): "Hwacheon Sancheoneo Ice Festival: After Overcoming Unfavorable Environment We Became Center of the World"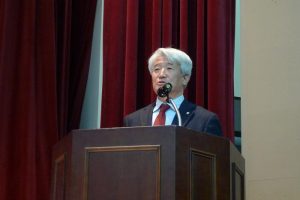 Opening remarks by Hwacheon Mayor Jeong Gab-cheol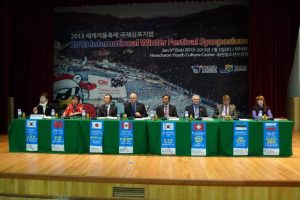 Panel Discussion
About the Hwacheon Sancheoneo Ice Festival
The Hwacheon Sancheoneo Ice Festival is an annual event held during January and attracts approximately 1.4 million visitors from home and abroad.
The events at the Sancheoneo Ice Festival include:
1. Ice fishing: Make a hole on the frozen river surface and fish for mountain trout.
2. Ice Illumination Plaza: A number of illuminated ice sculptures are exhibited in a 100-m rocky tunnel. This is a collaborated event with the China Harbin International Ice and Snow Festival and skilled sculptors from the Harbin festival are invited to create ice sculptures.
3. Sancheoneo Hope Lights Street: Streets in the center of Hwacheon are illuminated with mountain trout-shaped lanterns and light bulbs. Candles and lanterns made by children of Sapporo and Viimsi (Estonia) are also exhibited on the streets.
More information on the Hwacheon Sancheoneo Ice Festival is available at its official website:
http://www.narafestival.com/ice_eng/