First Mayors Conference
Host City
Sapporo, Japan (Mayor: Takeshi ITAGAKI)
Venue
Sapporo Education and Culture Hall
Period
February 7-10, 1982
Participants
Member cities: 9 cities from 6 countries
Edmonton (Canada), Harbin, Shenyang (China), Helsinki (Finland), Munich (Germany), Sapporo (Japan), Anchorage, Minneapolis, Portland (United States)
Observers: 18 cities and 3 towns from Japan
Themes and reporters
1. Future direction in city planning in the northern regions
The livable winter city (City landscaping and architecture appropriate for cold regions) …… Minneapolis
Measures to cope with increasing population and basic principles for urban development …… Edmonton
Planning of park areas and open spaces…… Munich
2. Transportation problems
Transportation in the wintertime and snow removal measures …… Sapporo
3. Improving living environments
Conservation of energy, improvement of the environment, and utilization of coal gas in the city……Shenyang
Cold-resistant housing and district heating systems …… Helsinki
Energy conservation policies …… Portland
4. Promotion of arts, sports, culture, and recreation
Promotion of a city with individuality and citizens' culture …… Harbin
Winter recreation …… Anchorage
Promotion of winter sports for citizens…… Sapporo
Outcome of the Conference
1. A new concept, "Winter is a Resource and Asset," was adopted by the participants, viewing the severe natural conditions of snow and cold as unique advantages of winter cities.
2. Touched off by the Northern Intercity Conference, an international research organization for winter cities' problems, "Winter Cities Association (WCA)," was formed, with the hope of mutually complementing the Northern Intercity Conference.
3. The city of Sapporo chose nine ideas, which had the potential of actually being utilized in Sapporo, out of 65 items reported during the Conference. A project team was formed within City Hall and new projects were executed to improve city planning.
Utilization of the ideas of the Northern Intercity Conference examples in Sapporo
Planting of evergreen trees
● Along roadsides
The basic idea was to plant evergreen trees on divider strips on roads 7 m or wider. They were experimentally planted on some streets in 1983 and 1984.
● In parks
About 30% of the total number of planted trees should be evergreen trees. Research on landscape and managerial problems took place in large parks.
● In city-owned facilities
About 30% of the total number of planted trees should be evergreen trees. Trees were experimentally planted in various places in 1982 and 1983.
Regulations for studded tires
A guidance standard restricting the period of studded tire use was set up and has been in effect since April, 1983.
An ordinance was enacted in April, 1987. The Law on the Prevention of Dust Pollution Caused by Studded Tires was enacted on June 18, 1990.
Measures to save energy
● Introduction of hydroelectric power
Hydroelectric power generation was put into use at the Moiwa Filtration Plant (for home consumption: 330 KWH) (operated in 1984).
● Use of sodium lamps
Lamps 200W are to be gradually replaced by sodium lamps. Lights for various facilities and athletic grounds are also replaced by sodium lamps in as many places as possible.
Facility construction in conformity with winter
● Construction of public underground walkways
Public underground walkways constructed between the stations of two different subway lines at Sapporo Station.
● Use of parks in winter
With the cooperation of the community, snow was experimentally removed from a few parks in each ward district and wooden play equipment was installed (executed in 1982).
● Introduction of wooden play equipment
Wooden play equipment to be installed in newly established parks by the request of local communities, although such equipment has a relatively short life and requires constant maintenance.
Promotion of art, sports and recreation in winter
● To hold sports and recreation events in conjunction with the Snow Festival
Ski meets and various snow events in each ward to be held in conjunction with the Snow Festival when possible (executed since 1982).
● Illumination for ice sculptures
Ice sculptures are illuminated at the Odori site (Citizens' Sculpture Exhibition) and the Susukino site (Ice Festival) (executed since 1982).
● Development and promotion of new sports and recreation
・Promotion of snow hockey (executed in 1982).
・Snow sculpture exhibitions, horse race track sports events such as horse sleigh races, snow mobile races and sailing ski races, Children's Snow Festival in Maruyama Zoo held (executed in 1982).
● Improvement of cross-country ski courses
Permanent cross-country ski course in Nakajima Park improved (executed in 1982).
Citizens' participation
At present, neighborhood associations are entrusted to manage children's parks, and the application of the same system is under consideration for neighborhood parks.
Urban landscape
・When possible, colors and shapes of buildings to be designated based on the opinions of the City Landscape
Committee.
・The Urban Landscaping Award was established.
Suburban green park
The park was opened along a river in Shiroishi Ward in the spring of 1986.
Skyway
The introduction of a skyway to the North-Exit Plaza of the Sapporo Railway Station is under consideration.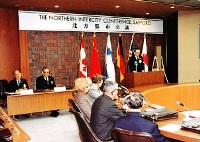 First Conference in Sapporo (1982)