Mayors Conference
World Winter Cities Conference for Mayors
The World Winter Cities Conference for Mayors is held every two years to discuss livability in winter cities. Issues related to city planning comprise the main topics of the conference, which also involves exchanges of information and technology among participating mayors.
In principle, participation in the conference is restricted to mayors of member cities; however, non-member cities may also participate as observers.
The host city of a conference is selected from among candidate cities by vote at the General Assembly. The nineteenth conference is scheduled for Norilsk, Russia in 2023.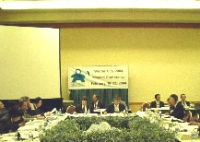 11th Mayors Conference, Anchorage (2004)
Winter Expo & Winter Cities Forum
(1) Winter Expo
The host city can organize the Winter Expo in conjunction with the Mayors Conference. Cooperation of the host city and its businesses and organizations will bring forth an exhibition of various winter- and snow-related machines and products at the Expo, introducing a wide range of technology. The Winter Expo will play an important role as a stage of economic exchange for winter cities.
(2) Winter Cities Forum
The Mayors Conference host city has the opportunity to concurrently hold the Winter Cities Forum. Experts and academic researchers in various fields as well as citizens make presentations regarding winter lifestyle and city planning, and exchange their views with other participants.
List of Mayors Conferences
| | | | |
| --- | --- | --- | --- |
| Conference | Host City | Period | Participants |
| First Conference | Sapporo, Japan | Feb. 7-10, 1982 | 30 cities, 6 countries |
| Second Conference | Shenyang, China | Sep. 19-22, 1985 | 16 cities, 6 countries |
| Third Conference | Edmonton, Canada | Feb. 13-15, 1988 | 20 cities, 13 countries |
| Fourth Conference | Tromso, Norway | Mar. 2-4, 1990 | 22 cities, 11 countries |
| Fifth Conference | Montreal, Canada | Jan. 17-21, 1992 | 47 cities, 12 countries |
| Sixth Conference | Anchorage, United States | Mar. 5-10, 1994 | 30 cities, 10 countries |
| Seventh Conference | Winnipeg, Canada | Feb. 9-12, 1996 | 33 cities, 9 countries |
| Eighth Conference | Harbin, China | Jan. 15-18, 1998 | 49 cities, 10 countries |
| Ninth Conference | Lulea/Kiruna, Sweden | Feb. 12-16, 2000 | 26 cities, 10 countries |
| Tenth Conference | Aomori, Japan | Feb. 7-10, 2002 | 28 cities, 13 countries |
| Eleventh Conference | Anchorage, United States | Feb. 18-22, 2004 | 27 cities, 11 countries |
| Twelfth Conference | Changchun, China | Jan. 15-18, 2006 | 29 cities, 13 countries |
| Thirteenth Conference | Nuuk, Greenland | Jan. 18-20, 2008 | 22 cities, 8 countries |
| Fourteenth Conference | Maardu, Estonia | Jan. 20-22, 2010 | 18 cities, 11 countries  |
| Fifteenth Conference | Ulaanbaatar, Mongolia | Jan. 13-15, 2012 | 13 cities, 7 countries |
| Sixteenth Conference | Hwacheon, Republic of Korea | Jan. 16-18, 2014 | 12 cities, 4 countries |
| Seventeenth Conference | Sapporo, Japan | Jul. 27-30, 2016 | 32 cities, 8 countries |
| Eighteenth Conference | Shenyang, China | Sep. 12-13, 2018 | 46 cities, 21 countries |
| Nineteenth Conference | Rovaniemi, Finland | Nov.5, 15-16, 2021 | 21 cities, 7 countries |