Sixteenth Mayors Conference
Overview
The sixteenth conference of the World Winter Cities Association for Mayors (WWCAM) was successfully held in Hwacheon, Republic of Korea, 16 to 18 January 2014, with the representatives of twelve cities from four countries. The main theme of the Hwacheon Mayors Conference was "Conservation of Nature and Natural Resources in a Winter City, and Sustainable Application Methods."
Period: Thuesday, January 16th to Sutarday, January 18th, 2014
Host City: Hwacheon, Republic of Korea
Participants:
 12 cities from 4 countries (11 member cities from 3 countries)
 WWCAM Member Cities (11 cities)
Changchun, Harbin, Jiamusi, Jixi, Qiqihar, Shenyang (China); Matsumoto, Sapporo (Japan); Hwaceon, Inje, Taebaek (Republic of Korea)
 Non-Member Cities (1 city)
Rovaniemi (Finland)
Theme: Conservation of Nature and Natural Resources in a Winter City, and Sustainable Application Methods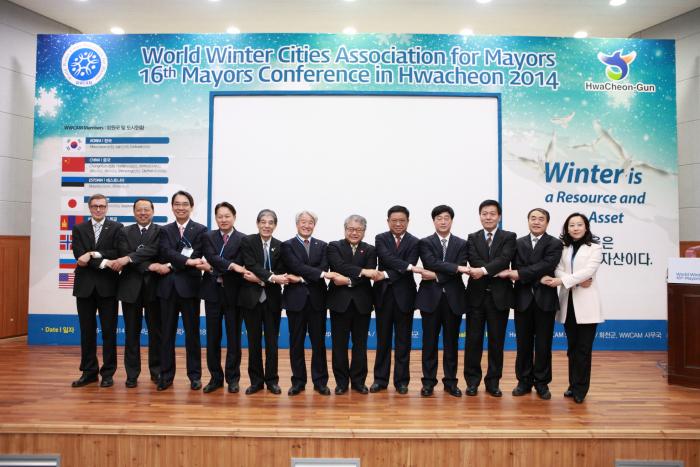 WWCAM city representatives at the 16th Mayors Conference.
Mayors Conference
Representatives of WWCAM member cities made presentaions on how to utilize natural resources to make cities more attractive while conserving the natural environment. Presentations by WWCAM cities at Hwacheon Mayors Conference comprised two sessions.
Session A "Development of Tourism and the Promotion of Tourism Industry using Natural Resources"
・Sapporo: Projection mapping was displayed on one of the giant snow statues at the Snow Festival. In recognition of the event, Sapporo was appointed to the UNESCO Creative Cities Network in the category of Media Arts in November 2013.
・Hwacheon: The Sancheoneo Ice Festival, first held in 2003, has become one of the preminent Korean festivals. Part of the festival entry fee is returned to visitors in the form of a gift certificate that can be used at Hwacheon shops, contributing to the local economy. 
・Changchun: The Changchun Snow and Ice Festival has been held for 17 years since it was inaugurated in January 1998. The festival has contributed to the revitalization of local tourism. 
・Harbin: The Harbin International Ice and Snow Festival is held every January. Winter in Harbin is harsh, but the climate becomes resort-like in summer. East meet West here, offering visitors many cultural experiences. 
・Jixi: Bordering the Russia Primorsky Territory, Jixi's goal is to develop China-Russia border tourism. The city also plays a role in the promotion of Chinese calligraphy, which has made the city historically important. 
・Qiqihar: Since Qiqihar is noted as a homeland of the crane, ecological tourism featuring these birds is prominent. Local enclaves of ethnic Koreans and Mongolians are popular with tourists. 
・Shenyang: Shenyang promotes its historical and cultural heritage and snow and winter activities, such as winter festivals, ski resorts, and hot spring spas. 
・Matsumoto: To attract visitors to Matsumoto in the winter season, the city is developing attractions, such as an eightmeter high "snow wall," with the hope to revitalize tourism here. 
Session B "Enhancing Winter Cities through Environmental Protection"
・Jiamusi: To cope with rapidly progressing urbanization and industrialization, the city is urging the development of new environmentally clean industries. The city has been carrying out environment protection by setting air pollution control goals and enforcing water pollution control.
・Inje: Inje has been carrying out environmental preservation using Effective Microorganisms (EM) whose antioxidant activity is beneficial to human health. EM can purify sources of pollution economically.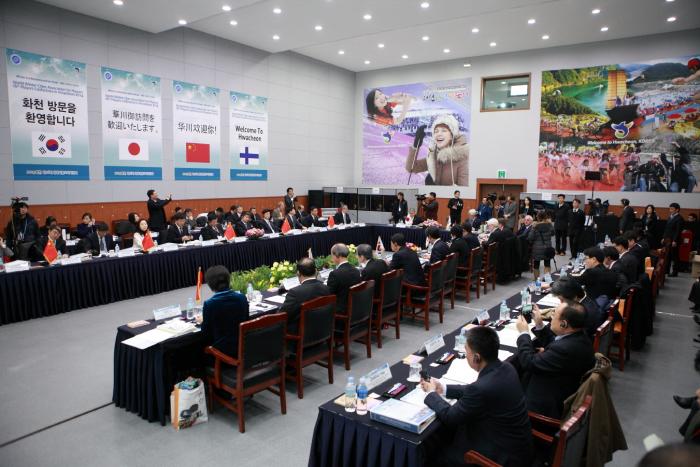 Participants discuss winter city themes.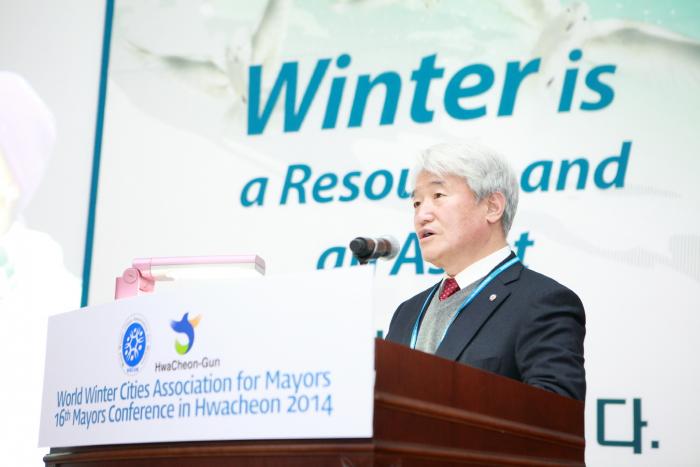 Mayor Jeong Gab-cheol of Hwacheon makes presentation on city planning utilizing Sancheoneo Festival.
Final Report on Action Goals for Environmental Protection
The results of efforts were presented in an final report at the Hwacheon Mayors Conference.
Final Report on Action Goals for Environment Protection
Mayors Discussion
Since it was founded as the Northern Intercity Conference of Mayors, the WWCAM Mayors Conference has been characterized as an event where mayors can meet and candidly exchange opinions on common issues that challenge winter cities, providing opportunities for cities to learn from each other. For the Mayors Conference in Hwacheon, a Mayors Discussion Time was establishedspecifically to discuss city planning challenges and solutions. The following are a few of the issues that wereraised.
In Harbin and Shenyang, China, residents have been paying keener attention to the protection of the environment, which has deteriorated due to economic growth and urbanization. Improvement of transportation infrastructure, including public transportation systems and road networks is required to solve traffic congestion.
The county of Hwacheon with its Sancheoneo Ice Festival and Rovaniemi, Finland, with its Santa Claus home have both been making efforts to use local resources for tourismpromotion.
Matsumoto, Japan, on the other hand, has been carrying out projects that have as a goal the health of residents under the slogan "Sustainable Healthy City."
The city of Inje has been working on a variety measures to revitalize traditional markets and the local economy.
Adoption of the Hwacheon Declaration and Resolution
The sixteenth Mayors Conference concluded with a plenary session at which a Hwacheon Declaration and Resolution were proposed by Hwacheon and the WWCAM Secretariat and were adopted unanimously. Mayor Jeong Gab-cheol of Hwacheon and Sapporo Mayor Ueda, president of the WWCAM, signed the document.
Attendees at the 2004 Mayors Conference in Anchorage witnessed arctic ice melting and with that experience as a motivator, environmental preservation has been a topic and a theme of subsequent Mayors Conferences.
Our environment is a universal concern requiring continual attention, and the Hwacheon Declaration states that "We [WWCAM members] will continue ourdiscussions on environmental issues including countermeasures to global warming and energy issues, and transmit the outcome of our efforts to the world."
The Declaration also states "To lead the internationalcommunity in tackling environmental issues is the role of the winter cities," and "We will put forth our utmost efforts in addressing these issues."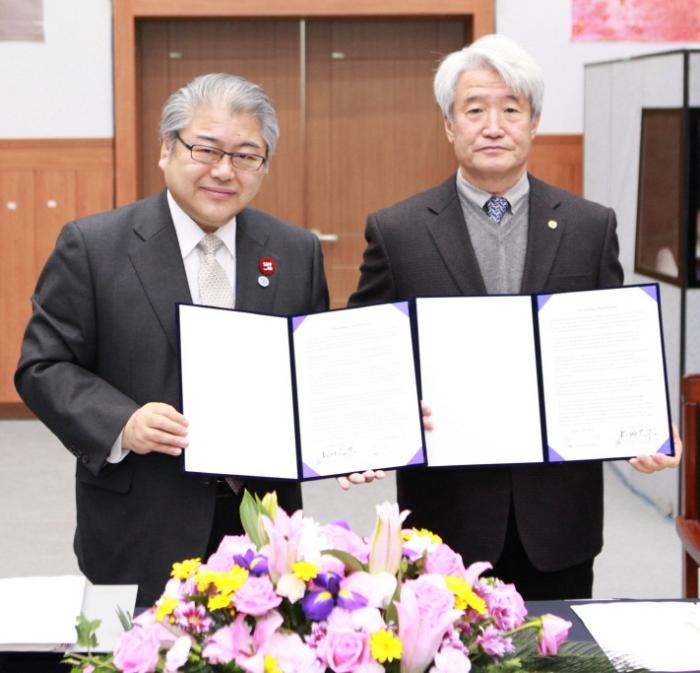 Mayor Jeong Gab-cheol of Hwacheon and Mayor Fumio Ueda of Sapporo display the Hwacheon Declaration.
Hwacheon Declaration
 In Hwacheon, the land surrounded by abundant natural beauty which gives birth to the pristine waters home to the mountain trout, we, the members of the World Winter Cities Association for Mayors, have reacknowledged that the realization of environmentally friendly cities is an important task for winter cities.
 During the Anchorage Mayors Conference in 2004, we witnessed Arctic ice melting due to global warming. Since then the Mayors Conference has held discussions focusing on environmental issues, such as approaches to global warming, environmental protection and energy policies.
 It has been exactly 10 years since we saw the melting ice sheets in Anchorage and acknowledged the need for immediate action against global warming. We, standing before the North Han River where people are enjoying Korea's largest winter festival, have advanced to a new stage in the quest to utilize natural blessings as resources to revitalize our cities without damaging the natural environment. 
 Recognizing that global warming has a strong impact on world winter cities and requires concerted solution finding efforts, WWCAM member cities have centered their endeavors on environmental issues, which are universal challenges demanding our continued efforts as we look towards the future. 
 While reaffirming that it is the role of winter cities to lead the international community in tackling environmental issues, we, the World Winter Cities Association for Mayors, hereby declare that we will put forth our utmost efforts in addressing these issues and will continue working to advance discussions on global warming, energy policies as well as other environmental issues, sharing our discoveries with the world and instilling environmental awareness in the young generation which will lead future efforts.
Subcommittees
A final report on the activities of the Environmental Protection Subcommittee was presented at the Mayors Conference by Changchun, China, which has been the subcommittee's secretariat since the subcommittee was established at the Maardu Conference in 2010.
Changchun has been involved in two projects since the subcommitte was formed: analyses of sources of particulate matter in the air in winter season and an investigation of the negative impact of snowmelting agents on the environment.
Final Report on the Activities of the Environmental Protection Subcommittee (Changchun)