Subcommittee on City Operations for Mitigation of Climate Change
At the 13th World Winter Cities Conference for Mayors (WWCAM) held in Nuuk, Greenland in January 2008, it was resolved to establish a "Subcommittee on City Operations for Mitigation of Climate Change" with the aim of studying environmental issues that are of concern to winter cities.
Based on the Nuuk Declaration adopted at the Conference, the Subcommittee hopes to gather information about the kinds of environmental problems member cities are facing so that the data can be shared among them to improve winter city planning.
The Secretariat of the Subcommittee was located in the city of Anchorage, United States. (Completed in January 2012)
First meeting (January 20, 2008)
Second meeting (August 20, 2009)
Interim report (January 21, 2010)
Third meeting (July 9, 2010)
Final report (January 13, 2012)
First Meeting
The first meeting of the Subcommittee on City Operations for Mitigation of Climate Change was held in Prince George, Canada in conjunction with the 2008 Working-Level Officials Meeting of the WWCAM. Representatives of 12 cities from nine countries attended the meeting, and both the background of establishing the Subcommittee and case examples of member cities' actions were presented.
Outline of the meeting
Anchorage indicated that the city has been working seriously on environmental issues and that the mayor of Anchorage was the first to sign the U.S. Mayors Climate Protection Agreement. Anchorage also revealed the results of a questionnaire and initiatives the city has taken. The Subcommittee will explore the idea of an agreement or charter to be adopted by WWCAM to conclude their research activity.
The city of Tromso made a presentation on environmental issues, citing receding glaciers and an increase in seawater surface temperatures. Tromso also described an electronic system for sorting biodegradable waste to recycle it for energy. The city has compiled an action plan to halve 1990-level CO2 emissions by 2020.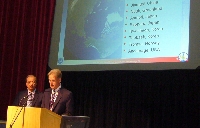 Dick Stallone (left) and David Ramseur of Anchorage report on subcommittee activities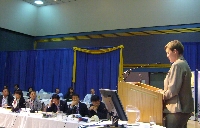 Eirin Rodseth of Tromso report on subcommittee activities
Results of the questionnaire
 ・ All member-city governments and residents consider climate change an important issue.
・ The results of climate change vary widely, and include warmer temperatures and river ice jams; less snowfall and more drought; rising timberlines; increases in pests; retreating glaciers; and an adverse impact on wildlife.
・ WWCAM cities are working on ways to reduce the impact of climate change, including the use of energy-efficient city vehicles and lighting; increased recycling; a ban on plastic bags; more bicycle use; and the use of alternative energies, such as wind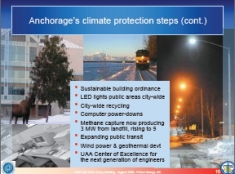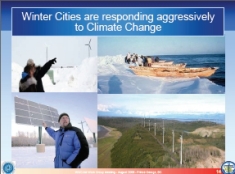 Presentations
Anchorage, United States English 1 English 2 English 3
Handout English
Tromso, Norway English
Second Meeting
The second meeting of the Subcommittee on City Operations for Mitigation of Climate Change was held in Tromso, Norway in conjunction with the 2009 Working-Level Officials Meeting of the WWCAM. Representatives of nine cities from six countries attended the meeting, and the City of Anchorage, which is the Secretariat of the Subcommittee, presented a case example of Anchorage's actions related to street lights making use of the LED technology.
Outline of the meeting
Anchorage has 16,000 street lights, 1500 trail lights, and hundreds of bus stop and pedestrian lights. LED technology has the potential to reduce energy use by 50%. To learn more, Anchorage installed 4,000 LED street lights to field test their effectiveness on several levels. Local residents overwhelmingly approved the new white light over the old HPS technology (orange-colored high pressure sodium lights).
・ White light at 4700 degrees Kelvin was found to be the optimum color, matching natural moonlight. It is pleasing to humans and does not disturb nocturnal animals.
・ We specified streetlights must be dark-sky certified so light is not lost upward to the night sky, and fixtures must also have house-side shields to prevent light trespass into homes.
・ Observers found this white light provided clearer night vision with truer color perception and greater contrast. This creates safer conditions for motorists and pedestrians alike.
With a lifespan of 15-17 years – more than seven times that of old HPS lamps, maintenance costs are greatly reduced. Anchorage found a simple payback of 6-7 years on energy savings alone. Phase I has been in operation nine months and energy savings have met or exceeded expectations. Public reaction has been very positive.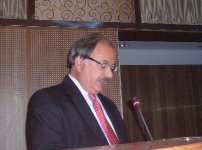 Dick Stallone from Anchorage giving a presentation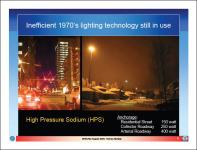 Traditional HPS lamps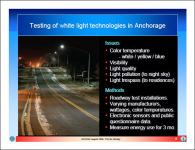 Field test of LED street lights
Presentation
Anchorage English
Interim Report
The interim report on the Subcommittee on City Operations for Mitigation of Global Climate Change was presented at the 2010 Mayors Conference Maardu, Estonia. With the participation of 18 cities from 11 countries, the Subcommittee secretariat (Anchorage) reported the city's efforts to utilize renewable energy for street lights.
Outline of the meeting
The Subcommittee on City Operations for Mitigation of Global Climate Change presented the interim report as well as expressed its intention to continue the Subcommittee's activities for two more years. Various efforts toward the utilization of renewable energy in Anchorage such as wind, geothermal, underground coal gastification, hydro and tidal were introduced. It was also reported that the LEED certified buildings have been increasing and LED Street Lighting Project has been actively promoted. For the future, the Subcommittee will focus on working to achieve the goals of the Nuuk Declaration on climate change, and will compile a final report with details on the situation and best practices of each participating city. In addition, the Subcommittee proposed that it would study measures to address homelessness, chronic alcohol and substance abuse.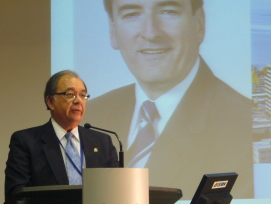 Dick Stallone of Anchorage report on subcommittee activities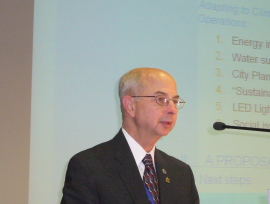 George Cannelos of Anchorage report on subcommittee activities
Presentation
Third Meeting
The third meeting of the Subcommittee on City Operations for Mitigation of Climate Change was held in Ulaanbaatar, Mongolia in conjunction with the 2010 Working-Level Officials Meeting of the WWCAM. Representatives of nine cities from six countries attended the meeting, and the City of Anchorage, which is the Secretariat of the Subcommittee, presented a case example of Anchorage's actions summarized below.
Outline of the meeting
Dick Stallone and George Cannelos of Anchorage updated the WLOM on their city's progress towards becoming a sustainable winter city. They also urged cities to take the lead in achieving sustainability. The speakers emphasized that for cities to be truly effective, they need good leadership from their regional and national governments. In this regard, the state of Alaska recently passed two important energy laws with ambitious goals:
 ・ to reduce electricity consumption per capita by 15 percent by 2020; and
 ・ to obtain 50 percent of its electricity from renewable sources by 2025.
The laws also provide 250 million dollars to retrofit public buildings in the state. Alaska also offers grants for pursuing emerging energy technology, and tax credits to power producers to encourage alternative energy projects.
The speakers noted that of all the measures cities can take, the most important and the easiest is energy efficiency. They cited the example of the United States, where buildings consume 40 percent of total energy and produce 38 percent of greenhouse gases. In the United States, 60 percent of all computers are left on over night.
Alaska ranks among the worst states in the country for energy efficient buildings. The Anchorage School District has an excellent energy efficiency program, however, Mr. Stallone and Mr. Cannelos also discussed progress in improving air quality in the city, which tracks carbon monoxide, particulate matter PM-10 (such as dust), PM-2.5 (such as smoke), lead, and benzene. These pollutants relate directly to the health of Anchorage citizens.
Anchorage has also joined many other cities in placing real-time air quality information on the Internet.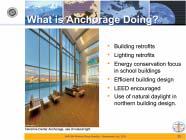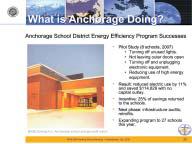 Presentation
Anchorage English 1 English 2 English 3
Final Report
Mr. Dick Stallone, and Mr. George Cannelos, Chairman & Vice Chairman of Anchorage Winter Cities, Inc. presented the final report for the Subcommittee on City Operations to Adapt to Global Climate Change at the 15th WWCAM Conference for Mayor in Ulaanbaatar. 
This subcommittee was established at the 13th Mayor's Conference in Nuuk in 2008. A survey of member cities found that climate change affected each city operation, budgets, policies and programs, but in different ways. Anchorage, for example, worried about increased dangers from urban wildfires. Changchun, Harbin, and Hwacheon reported unusual droughts and monsoons threatening agriculture. Jiamusu and Taebaek focused on the need for cleaner and more efficient heating and air conditioning. Tromso reported unusually warm temperatures affecting the timber and fishing industries.
The survey then asked what new measures cities are implementing to reduce the impacts of climate change. Ten of eleven cities said they were increasing recycling and transitioning to energy efficient lighting and equipment. Eight cities said they were taking steps to reduce energy usage. Seven cities reported they were seeking renewable energy sources. Six cities said they were purchasing more energy-efficient vehicles. And four cities replied they were offering incentives to city employees to use public transit. 
In addition, all member cities are being impacted by urban migration, which is occurring at unprecedented rates. Ulaanbaatar, for example, had just 20% of Mongolia's population in 1950. By 2010, the number had risen to 60%, and the UN predicts 80% of the country will be urban by 2050.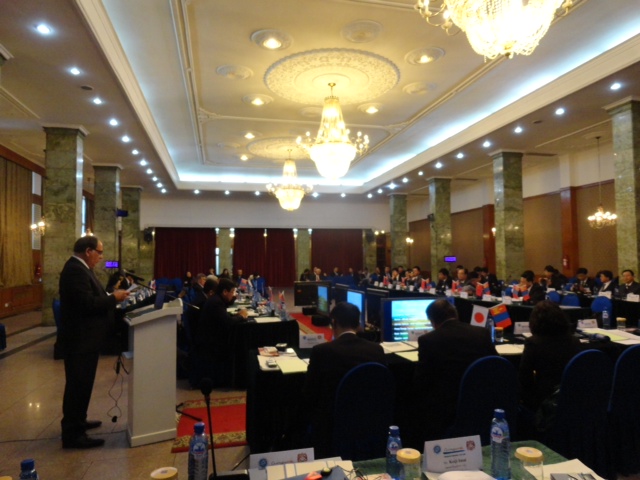 Final report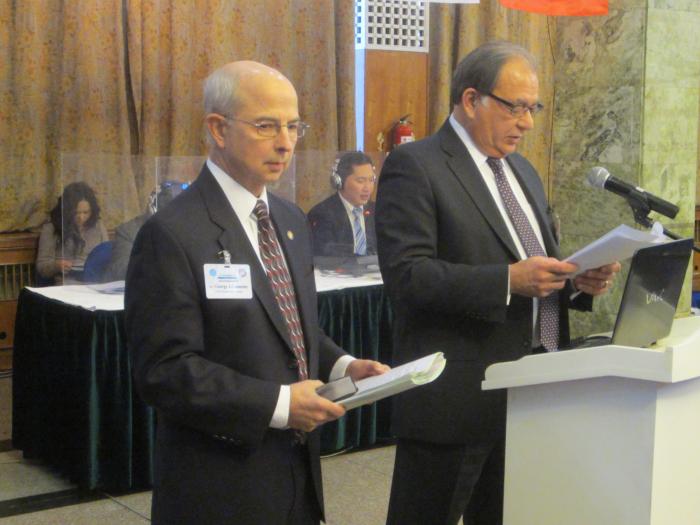 Dick Stallone (right) and George Cannelos (left) of Anchorage report on subcommittee activities
Anchorage Mayor Dan Sullivan is addressing similar pressures of climate change, changing demographics and reduced funding by focusing on winter city land use planning, sustainable building design, renewable energy programs, water supplies, air quality and especially LED lighting. 
The final report of the committee focused on Anchorage's progress in energy conservation, energy efficiency and the better use of electricity. Using energy more wisely is the single most important step cities can take to be more sustainable, and prepared for climate change.
Anchorage's two major electrical utilities, for example, are investing almost $370 million in a new joint power plant project which will have 25% greater fuel efficiency than existing plants. They are also investing in Anchorage's first wind farm, which will provide power during 2012. 
The utilities place great importance on energy efficiency and conservation. Through a public education program, 84% of members are turning off lights, using more efficient light bulbs, using appliances less, and by better insulating their home.
Anchorage's LED lighting program has excellent results! Phase one – replacing all residential street and low speed collector lights is 95% complete. The actual energy savings compared to the older high pressure sodium lights is animpressive 59%. The payback time is shorter, and we're getting excellent feedback from drivers and pedestrians.
A significant outcome from all these efforts is a major reduction in the average kilowatt hours used by households in the urban regions in Alaska over the past ten years. This is a major achievement, and results in savings to consumers, less greenhouse gasses, and more energy conservation.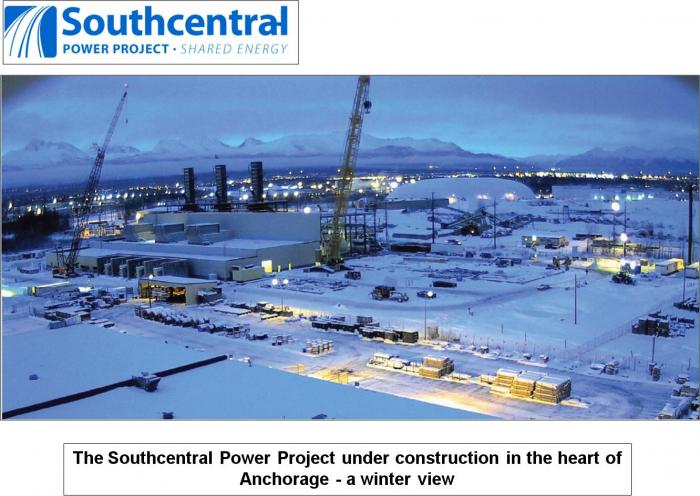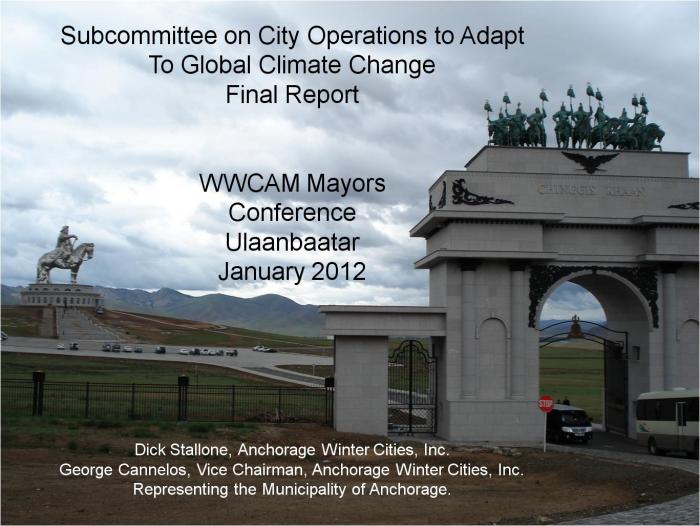 In conclusion, the Subcommittee found that:
 ・ climate change is a major concern to all WWCAM members;
 ・ each city is responding to the challenges of climate change with different, but complimentary strategies
 ・ urban migration places additional stresses on cities;
 ・ in our view, cities offer the best chance for sustainable development;
 ・ and most important, cities must continue to share lessons learned and work together
Mr. Stallone and Mr. Cannelos thanked all member cities and the Secretariat for their cooperation and willing assistance during the life of the subcommittee. They hoped the lessons learned will help the WWCAM promote sustainability for each of our member cities.